April 28: Almost alone on the beach
---
Dr. Waterman was a little embarassed when we called him from Rotterdam to postpone our meeting by an hour. In short – he had forgotten it and we would have to do the interview without him.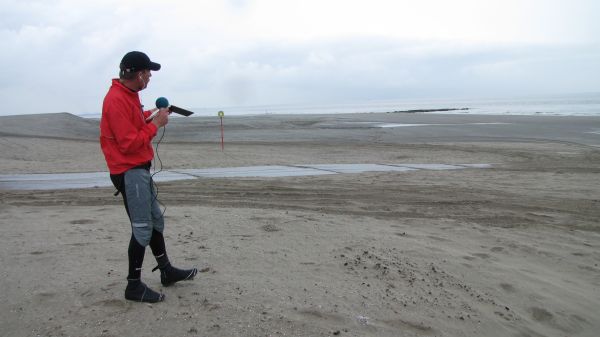 We had invited him to tell his vison of the Second Dutch coast. Ter Heijde is an appropriate setting, since it has a very narrow beach that needs lots of sand suppletion to compensate for the sand that gets carried away by the sea. Sand suppletion is a standard practice along the Dutch coast.

Ronald Waterman carries this habit a long way further in his vision of the Second Coastline. It consists of a dune line ten to twenty kilometers out of the present coast line. In between there is an ecological zone where tide flows in and out.

We would have liked to hear him describe the view from the Ter Heijde dunes in perhaps thirty years.

The Scond Coastline is an example of the 'working with nature' trend that Waterman and many others now see as a more sound and ecological alternative to the high and hard dykes prefered by previous generations.

Waterman occasionally presents his ideas -last year he published the book 'Integrated Coastal Policy via Building with Nature'-, but in fact he trusts the plan will be realised bit-by-bit all by itself. He points at recent offshore land creating projects near Hoek van Holland and IJmuiden marina and now Maasvlakte 2, the offshore extension of the Rotterdam harbour area.

We would have loved to hear him explain this better than this, and we would like to know what he makes of the criticism there is in England where action groups blaim dredgers for the accelerated erosion of their beaches. While in Holland it's the main method for maintaining beaches and dunes.