July 13: Sea Change in Lowestoft
---
Halls at the once famous Lowestoft fish market are being transformed into a control centre for the worlds largest offshore windpark.

Lowestoft once was one of the major fishing ports in the United Kingdom. Halls along the quay hundreds of meters long are remnants of this glorious past. But presently, the fish auction at 7 o'clock the morning occupies only a small part of one of the halls. Just one boat landed its catches and the auction was over before you knew it.

"You blink and you miss it", says fish merchant Sam Cole. He takes us to his building where fish are sorted. Haddock, mackerel, tuna, cod, halibut from over the whole world are prepared for sales here. But very little originates from Lowestoft itself. Reductions in the fishing fleet have brought fishing here to a near-stop.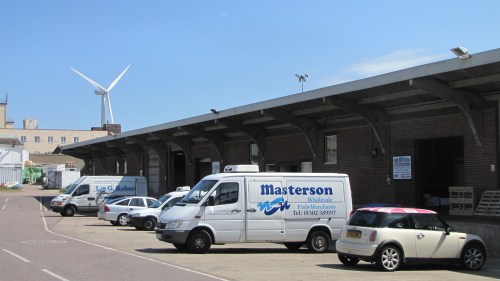 Wind industry is taking over the place at Battery Green Road. Except from the offshore wind control centre under construction, there will also be a helicopter pad and storage facilities for repair and maintenance here.

A kilometer or so further north, near Englands most eastern point Ness Point a four storey glass and steel building Orbis Energy has been built at the seaside, right next to a giant wind turbine. The Suffolk County Council ordered the 10 million euro building for housing 'offshore renewable business'. It was opened for business in november 2008.




The main tenant (over half of the building is still empty at the moment of our visit in July 2009) is Greater Gabbard Offshore Winds Ltd. The firm is owned by Airtricity, part of Scotttish & Southern Energy and RWE.

Greater Gabbard is building the worlds largest offshore windpark thus far 15 miles off the Suffolk coast. 140 Siemens turbines are put into sea to form a 500 megawatt windpark. The first power is expected to be delivered at the end of 2009, completion early 2011. Two offshore power transformers will transfer the power from 33 kilovolt to a higher voltage to feed into the grid at Sizewell, the location of an existing nuclear power plant.

The offshore wind industry brings new jobs to Lowestoft. Greater Gabbard alone expects to need 50 to 80 people for control and maintance of the windpark. In total, about 150 jobs are expected to be created from the new industry.

The British government intends to quadruple the offshore wind energy from 8 to 33 gigawatts by 2020. Airtricity works on seven offshore windparks in the North Sea, some of them off the Dutch coast.

It will not be long before wind energy is a much larger industry then fishery in Lowestoft.

Yet, fine fish will remain available here. Sam Cole and his father Donnie Cole who runs a reknown fish restaurant, will take care of that. But the fish will come from Turkey, Iceland, Norway or the Pacific and very little from Lowestoft itself.