May 10: Wind turbine grounded
---
From the dyke it seems like a wind turbine has crashed into the fields. But in truth it's an almost forgotten exhibit from the Hannover world expo in 2000: a wind turbine on ground level to be freely inspected.

The exhibit is now on the park of the Windtest facilities some 10 kilomtres north of Brünsbuttel, Germany. There is no fair, hardly any information, and no entry fee Never mind – the turbine casing is open for any visitor that happens to drop by.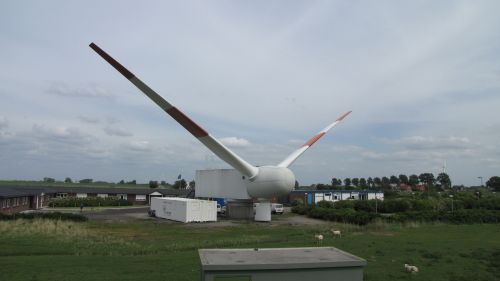 Energy provider Eon presented the machine for a while after the 2000 World Expo in Hannover, but the firm somehow lost interest in it. Luckily, they didn't boult the thing up so that it is still open to visitors.

I always wondered what was going on 50 meters up in the turbine housing. Acknowledging that anything that high up is much, much bigger than it seems from ground level.

Well, it is HUGE. About twice the size of a sea container in all dimensions, Inside it reminds of a ship's engine room. Huge axes, an immense disk brake with five feet diameter, a gear box and -sure enough- a generator that nominally spins at 1200 revolutions per minute capable of generatting 1.2 megawatts of power. Small in today's perspective where 2 or 3 megawatt turbines are the norm.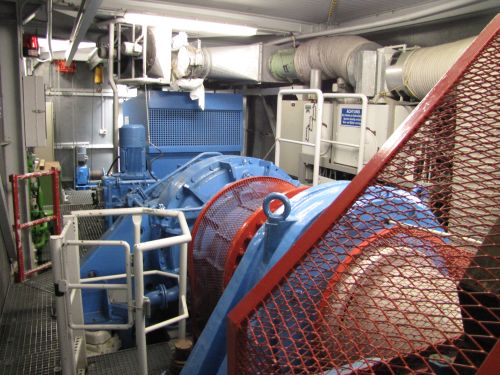 Additional provisions include a winch that can lift things through the bottom hatch and two computer racks that house the computers for tuning the blade angles to the wind. On top there are two wind velocity meters as well as wind direction sensors.

On the side there is a work bench with a complete technical handbook in one of the drawers. It's like the whole thing has been lowered to ground level only yesterday.

In short it's a computer controled engine room on top of a 50 meter pole. The forgotten exhibit offers the unique possibility to take a look inside. Every museum of science and technology should have one. It can only contribute to the respect of this recently emerged technology.