April 30: Holland hydro
---
You'd be forgiven to think that hydro power in a flat land as Holland cannot count for much. But Hans van Breugel from Tocardo Tidal Turbines thinks his industry has the potential of growing into one of the biggest industries in North Holland.

At the exhaust sluices at both sides of the Afsluitdijk a powerful stream of sweet water from the IJsselmeer flows into the Waddenzee twice a day with current speeds of up to four meters per second. 'It's an ideal test facility', says Van Breugel. He has monitored a tidal turbine into the exhaust sluices for some years now.

The current turbine has a diameter of 2,8 meters and delivers 45 kilowatts of energy, enough to provide 60 homes with electricity. 'This model is now for sale', says Van Breugel.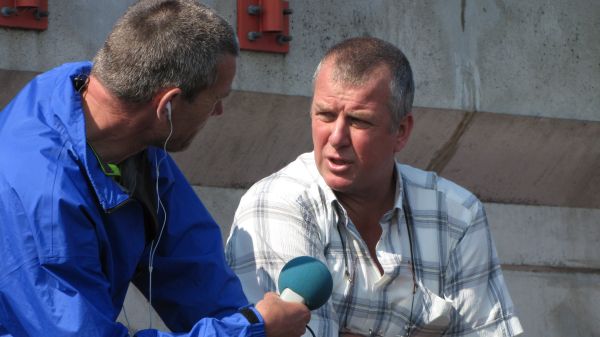 Hans van Breugel



Van Breugel experienced the power of waves and currents while being a crew member of one of Smit's vessels, navigating the world. But life at sea was too boring for him and he set up Team Work Technologies with his partner Fred Gardner to develop sustainable energy systems.

The Wave Generator they developed was sold to AWS ocean energy systems in Scotland.

Tocardo, a Team Work Technologies spin-off, develops and produces sturdy and solidly constructed tidal turbines that look like a short torpedo with two stub fins at the nose cone: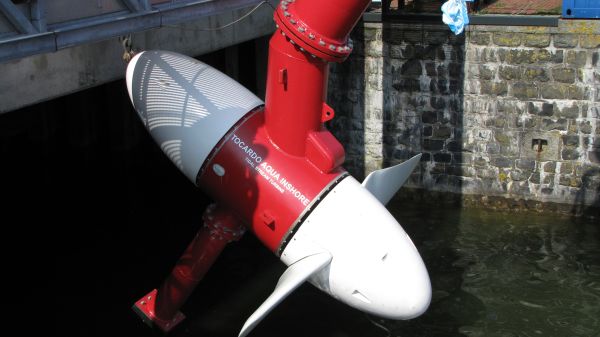 Plans are to develop a larger offshore version as well, intended to be placed in the Marsdiep – the narrow channel of water between Den Helder and Texel through which much of the Waddenzee is filled and drained twice a day. Ten to twelve turbines there should generate 5 megawatts of energy.

Other promising locations include the Oosterschelde where turbines could win the energy of sweet water flowing into the North Sea. Targeted offshore locations are outside the Maasvlakte 2 – a seaward extension of the Port of Rotterdam -, sea currents off the coast of IJmuiden and the Marsdiep.

In all, maritime consultants of Deltares estimate that 3 percent of the Dutch electricity could be provided by tidal generators.Okay, in comparison with Switzerland or Norway, it isn't much, but it's the best the flat lands can offer. Elsewhere, where tidal currents are stronger, potentials are higher.

If and when tidal energy follows the success of wind energy, Tocardo could grow into a leading industry in North Holland, says Van Breugel.