Cycling around the North Sea
a three month search for sustainability
---


On Sunday, April 26th 2009, the Dutchmen Jos Wassink (50) and Koos Termorshuizen (54) will mount their fully packed bicycles for a three-month tour around the North Sea.

The 6.000 kilometre long tour counter clockwise around the North Sea will bring us to offshore windpark, CO2 sequestration projects, test locations for coastal defence and fishery projects.

On our way, we will meet with marine biologists, wind turbine constructors, fish farmers, energy pioneers and civil engineers. Interviews with them will reveal how a more sustainable future will look like.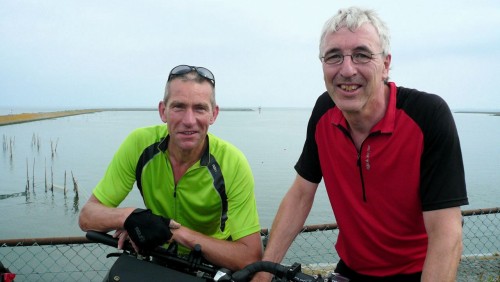 Jos Wassink and Koos Termorshuizen



Jos Wassink MSc. is a science journalist who worked for over ten years for public television and radio. Last year, he published the book 'Energierevolutie' (Energy revolution) on sustainable energy projects in the Netherlands.

Koos Termorshuizen co-owns the market research company Arachnea BV.

They share their hobby, rowing, and a passion for water. In 2007, they published the book 'De Eem, verborgen rivier' (The hidden river Eem) about the 18 km long river on which they row every week. The mix of pictures, local history and portraits of 'Eem-people' resulted in a regional best-seller.